list of books i read in 2012
january
1. the marriage plot by jeffrey eugenides
2. the collected stories of lydia davis by lydia davis
february
3. the trees the trees by heather christle
4. the hunger games by suzanne collins
5. the hunger games 2 by suzanne collins
6. a lover's discourse by roland barthes
7. the dream of a common language by adrienne rich
march
8. the hunger games 3 by suzanne collins
9. the london train by tessa hadley
april
10. selected unpublished blog posts of a mexican panda express by megan boyle
11. threats by amelia gray
12. all my friends are superheroes by andrew kaufman
13. some of us had been threatening our friend colby by donald barthelme
14. pretty monsters by kelly link
15. the brief and frightening reign of phil by george saunders
16. faber new poets 7: poetry by sam riviere
17. pastoralia by george saunders
18. grow up by ben brooks
may
19. everything's fine by socrates adams
20. eat when you feel sad by zachary german
21. 40 stories by donald barthelme
22. zero at the bone by stacie cassarino
23. first love and other novellas by samuel beckett
24. typewriter by jimmy chen
25. the perks of being a wallflower by stephen chbomsky
26. in persuasion nation by george saunders
june
27. unclean jobs for women and girls by alissa nutting
28. the unabridged pocketbook of lightning by jonathan safran foer
29. i am my own betrayal by guillaume morissette
30. we take me apart by molly gaudry
31. the lake by banana yoshimoto
july
32. the black swan by nassim nicholas taleb
33. almost transparent blue by ryu murakami
34. the bird room by chris killen
35. light boxes by shane jones
august
36. civilwarland in bad decline by george saunders
september
37. galavant issue 1
38. the wisdom of life by arthur schopenhauer
39. caribou island by david vann
40. dune by
41. south of the border, west of the sun by haruki murakami
42. this is how you lose her by junot diaz
43. swimming home by deborah levy
october
44. there but for the by ali smith
45. 81 austerities by sam riviere
46. pee on water by rachel b glaser
47. bluets by maggie nelson
november
48. leaving the atocha station by ben lerner
49. the no hellos diet by sam pink
50. how should a person be? by sheila heti
december
51. fairest volume 1
highlights of the year
1. leaving the atocha station by ben lerner
'The joint was before me again and the woman who passed it began to speak to me and either because I was high or upset I couldn't understand her spanish, but that's not really right. Her Spanish, like Teresa's poem, became a repository for whatever meaning I assigned it, and I felt I understood, although I knew I was talking to myself. It was as if she said: Think about the necklace. Think about the making of the necklace. About Isabel's brother's notebook. I could hear what she was actually saying beneath this and I heard myself respond but all of that was very distant. It was as if she said: Imagine her brother writing. Think of the little scrap of paper Teresa tore from her novel and put into your notebook. Think of the hash transported inside one body as a solid and expelled and sold and then drawn into your body as vapor and gas. Think of the bombers purchasing the backpacks. Always think of the objects. Think of the necklaces and novels and bodies torn apart by the blast. Think of the making of the necklaces and the novels and the bodies and Isabel's brother in the crushed red car. But then think of a poster of Michael Jordan on the wall of Isabel's brother's room while he wrote the years down in the notebook. Where is that poster now. And think of the field opposite the telephone pole her brother wrapped the car around. How can you turn your attention away from the crushed red car and his body and walk into the field where nothing is happening, just indifferent wind in the indifferent grass, but a particular wind in particular grass. You can stay there for as long as you want, easily blocking out the sirens. Or you can enter the poster with the sea of camera flashes as Michael Jordan jumps and you can leave the arena as the crowd is roaring and walk into the Chicago of the recent past where novels are being written and necklaces are being made and gases are being inhaled and dates are being memorized by brains and brains destroyed in crashes. You can see all of this from a great height and zoom out until it is no longer visible or you can zoom in on the writing hand or the face of the dead, zoom in until it's no longer a face. Or you can click on something and drag it. You can adjust the color or you can make it black and white. You can view any object from any angle or multiple angles simultaneously or you can shut your eyes and listen to the crowd in the arena or the sirens slowly approaching the red car or the sound of the pen writing down the years as silver is hammered and shaped.'
2. bluets by maggie nelson
199. for to wish to forget how much you loved someone—and then, to actually forget—can feel, at times, like the slaughter of a beautiful bird who chose, by nothing short of grace, to make a habitat of your heart. i have heard that this pain can be converted, as it were, by accepting 'the fundamental impermanence of all things.' this acceptance bewilders me: sometimes it seems an act of will; at others, of surrender. often i feel myself to be rocking between them (seasickness).
200. 'you cannot step into the same river twice' —a heartening anthem, without a doubt. but really this is but one version of the version of the fragment left behind by heraclitus, who was justly nicknamed 'the riddler' or 'the obscure'. other versions: on stepping into rivers staying the same other and other waters flow'; 'we step and do not step into the same river; we are and we are not', 'you cannot step twice into the same river, for other waters and yet others, go flowing on.' it seems that something is staying the same here, but what?
201. i believe in the possibility—the inevitability, even—of a fresh self stepping into ever-fresh waters, as in the variant: "no man ever steps in the same river twice, for it's not the same river and he's no the same man.' but i also sense something in heraclitus's fragment that allows for the possibility of a mouse shocking its snout on a hunk of electrified cheese over and over again in a kind of a static eternity.
202. for the fact is that neuroscientists who study memory remain unclear on the question of whether each time we remember something we are accessing a stable 'memory fragment'—often called a 'trace' of an 'engram'—or whether each time we remember something we are literally creating a new 'trace' to house the thought. and since no one has yet been able to discern the material of these traces, not to locate them in the brain, how one thinks of them remains mostly a matter of metaphor: they could be 'scribbles', 'holograms' or 'imprints': they could live in 'spirals', 'rooms' or 'storage units'. personally when i imagine my mind in the act of remembering, i see mickey mouse in fantasia roving in a milky, navy-blue galaxy shot through with twinkling cartoon stars.
3. zero at the bone by stacie cassarino (poetry)
Summer Solstice by Stacie Cassarino
I wanted to see where beauty comes from
without you in the world, hauling my heart
across sixty acres of northeast meadow,
my pockets filling with flowers.
Then I remembered,
it's you I miss in the brightness
and body of every living name:
rattlebox, yarrow, wild vetch.
You are the green wonder of June,
root and quasar, the thirst for salt.
When I finally understand that people fail
at love, what is left but cinquefoil, thistle,
the paper wings of the dragonfly
aeroplaning the soul with a sudden blue hilarity?
If I get the story right, desire is continuous,
equatorial. There is still so much
I want to know: what you believe
can never be removed from us,
what you dreamed on Walnut Street
in the unanswerable dark of your childhood,
learning pleasure on your own.
Tell me our story: are we impetuous,
are we kind to each other, do we surrender
to what the mind cannot think past?
Where is the evidence I will learn
to be good at loving?
The black dog orbits the horseshoe pond
for treefrogs in their plangent emergencies.
There are violet hills,
there is the covenant of duskbirds.
The moon comes over the mountain
like a big peach, and I want to tell you
what I couldn't say the night we rushed
North, how I love the seriousness of your fingers
and the way you go into yourself,
calling my half-name like a secret.
I stand between taproot and treespire.
Here is the compass rose
to help me live through this.
Here are twelve ways of knowing
what blooms even in the blindness
of such longing. Yellow oxeye,
viper's bugloss with its set of pink arms
pleading do not forget me.
We hunger for eloquence.
We measure the isopleths.
I am visiting my life with reckless plenitude.
The air is fragrant with tiny strawberries.
Fireflies turn on their electric wills:
an effulgence. Let me come back
whole, let me remember how to touch you
before it is too late.
4. unclean jobs for women and girls by alissa nutting (short stories)
Ant Colony by Alissa Nutting
1.
When space on earth became very limited, it was declared all people had to host
another organism on or inside of their bodies. Many people chose something noninvasive,
such as barnacles or wig-voles. Some women had breast operations that allowed them to
accommodate small aquatic life within implants. But because I was already perfectly-breasted
(and, admittedly, vain) I sought out a doctor who, for several thousands of dollars, drilled
holes into my bones to make room for an ant colony.
After being turned down by every surgeon in the book, I finally found my doctor.
Actually he's a dentist. I had to lead him on in order to get what I wanted—he only agreed
to the procedure because he is in love with me.
"I have all your movies," the doctor told me during our first consultation. "I think
you're the most perfect woman in the world."
Since this had never been attempted, I was a study trial. My participation in this experiment had a lot of parallels to modeling, which I used to do before commercial acting. Once a month I went into a laboratory and removed all my clothing. This latter step probably wasn't necessary, but I did it because I was grateful, and also because it was interesting to feel someone looking at my outsides and my insides at the same time. When I laid down onto an imaging machine and certain buttons were pushed, the doctor could see all the ants moving around in my body, using their mandibles to pick up what he said were synthetic calcium deposits. The ants were first implanted within my spine, where their food supply was injected monthly, but then they quickly moved throughout the other various pathways that had been drilled into my limbs and even my skull.
The ants' mandibles were the only part of them that disgusted me; they reminded me of the headgear I'd had to wear with my braces in grades six through eight. I'd refused to wear it to school or even walk around the house when I had it on. Instead I wore it two hours each night before bed, and I spent this time reading fashion magazines in my closet. I wouldn't allow anyone, even my mother, to see me. She used to stand at the door and beg for a kiss goodnight. This was of course before the cancer—she had already been dead for several years by the time the organism hosting movement started. When she began dying I didn't want to watch on; I usually grew angry when she'd ask me to come see her in the hospital. The cancer overtook her body until she looked parasitic herself. Near the end, if I felt her lips on my cheek while I was hugging her I'd pull away—I knew it was ridiculous, but I was afraid she was somehow going to suck out my beauty.
"Can you feel them inside you?" As he watched the scan from an outside control room, the doctor's would whisper into a microphone that I could hear through a headset earpiece. His voice sounded sweaty. "Does it seem like your blood is crawling? Does it tickle? Are you ticklish?" He'd ask me questions the entire time, but even if I were to answer, there was no way for him to hear my response.
In truth I didn't feel a thing; it was hard to believe they were even there. On my first follow-up visit I made the doctor show me footage of myself in the large ant-imaging machine to prove they were actually inside me. But after awhile I got used to the thought of their presence and even started speaking to them throughout the day. The doctor said this was healthy.
"It's not uncommon to feel a shift of identity," he assured me. "It's okay to talk to your organism, and to feel like it understands you. After all, it's a part of your self. We could talk about this more over dinner?"
But I never actually crossed the line into dating. Then one day I received a frantic
call.
"Come in immediately. Where are you right now?"
At the moment, I was in the middle of shooting a commercial for a water company.
"Leave the minute you hang up the phone. What we have to discuss is far more
important."
I was very used to people feeling like they were more important than me, but less
beautiful. I often felt that every transaction in my life somehow revolved around this
premise.
"Refreshing," I said. It was my only line in the commercial, and I'd been practicing
all day.
I can tell you this: I did love how invisible the ants were. They were creatures that seemed to consider themselves neither important nor beautiful. Earlier that month, the doctor had given me a videotape of several ants feasting on the corpse of ant that had died in my femur. This cannibalism was an aberration, he'd pointed out: ants do not normally eat other ants from their own colony. The doctor had worked with an entomologist to specifically breed a contained bone-ant species that would eat the dead, lay the eggs in the dead, and make the dead a part of the living.
Defying these orders, I finished the refreshing water shoot. When I finally arrived at the doctor's he was very upset—he'd cancelled everything and had been waiting in his office, which is covered with wall-to-wall pictures of me, for hours.
"Your left wrist."
I slipped off my glove and held it out to him in a vulnerable way. My wrist was smooth and fragrant and pale and had a nicotine patch on it; the doctor had suggested I quit smoking for the health of the ants. I squeezed my eyes to look beneath my skin for them. "It's like they're not even there," I muttered.
"Grip my fingers," he said, holding two of his own upon my pulse. It was a little difficult to do.
"God," he said. Even though his voice sounded worried, he seemed a little pleased.
"Goodness."
He ran out of the room, face flushed. And there I sat alone, or not alone truly.
"We seem to be in crisis," I muttered to them, and put my glove back on.
Since the ants, I have started gloving my arms. I buy the longest gloves I can find. It
feels like putting the ants to bed, the way one might place a blanket over the cage of a bird.
*
"We are all certain this can be resolved." Around the table sat several new doctors
I'd never met, or maybe they were dentists. I spotted a magazine that I was in—mascara ad,
page seven—lying on an end table in the conference room. Somehow this made me feel
safer, more of a majority. There were two of me in the room and only one of everybody else.
My doctor passed me a glossy picture: its subject was a fat, excreting ant. The ant
was surrounded by small piles of powder that, when magnified, almost looked like crumbs of
bread. I gagged a bit. "Why are you showing me this?"
"This is their queen," he said. The doctor's pupils had dilated to a width universally
associated with insanity. "She wants you gone." His fingertip moved from pile to pile on the
glossy photo, leaving a print upon each one. "These are piles of your bone. You are being
devoured by the ants that live inside you."
"Eaten from within." A dull woman at the very end of the table repeated this in a
parrot-like manner. She wore a large dome cap, the obvious fashion of one hosting an organism on her head. Hers appeared tall and slightly conical; I was very interested in what type of creature it might be, but it is considered rude to ask about other people's organisms—they are ultimately too much of a bodily function.
"But we feed the ants so they don't have to eat me. I come here once a month so
you can put their food inside."
An authoritarian doctor whispered something to my doctor, who whispered to me.
"They're not eating it anymore."
I whispered back to him. "Can we start feeding them something more enticing? A different bone-substitute? Ground bones from animals? Or maybe even the dead?" I knew it was a tasteless suggestion, but I did have money and my life was apparently in danger. The authoritarian doctor scooted back in his rolling-chair and looked at his shoes.
"No," my doctor said, and then he stood. His hands lifted slightly above his head.
"This is not about consumption. It is an act of interspecies war!"
In the following weeks, my strength and health deteriorated until I was finally admitted to a very special hospital ward. It was a room my doctor had built onto his existing home just for me.
Around this time, the doctor also started wearing a large sack around his waist—to conceal his organism, I assumed, whatever it might be. It must've grown larger since when I'd first met him. I was grateful my organism wasn't making me wear a sack around my waist, even if it was eating me alive. The sack made a swish noise when he walked; in motion
the doctor sounded like a giant broom.
This swishing became more and more of a comfort as I gradually lost my vision. The doctor reminded me that when one door closes another opens, and this was true; I did seem to be gaining a sort of ant-sight. My ears began to turn away from human sounds as well, but soon I could pick up more ant noises. Around the third week I requested that my room's television be taken away. When my eyes were closed I could see various dark caves and swarming ant-limbs, and these images gradually started to feel preferential to anything I might view of the outer world.
"I'm becoming them," I said one night when I heard my doctor swish in. "I'm
becoming the ants."
I heard him pull up a chair and sit down next to me. "It is wonderful, isn't it? My swan, my pet?"
He hadn't called me those things before, but I was in no condition to disagree. My arms and legs could no longer move—I could only move through the ants. It was like having hundreds of different hands. I could make them go anywhere and do anything inside my body; I'd even started eating with them. Though I didn't necessarily want to devour my own bone, I had an insatiable hunger, and there was a commanding voice, Eat, Walk, Lift, Chomp, it was my own voice but much deeper, not exactly masculine but echoing and confident, like my home was a large cave and I firmly believed in everything I said. I seemed able to express only one word at a time, but this felt more liberating than restrictive—suddenly every word could be a full representation of myself.
I lost all track of time. Eventually I was certain of only two things: the appetite was getting out of control, and my old eyes were completely gone.
"The rest of the world thinks that you've died," the doctor told me. As he swished into the room, there was the sound of yards and yards of material being unwrapped and lifted. His words seemed round with satisfaction. "You cannot see it, but I have just unveiled the portal."
I would've answered him, but I was no longer sure if my voice still made a sound or if words even came out when I felt like I was talking.
"It is right here on my waist; I've been making paths inside of me just as there are
paths inside of you. After you first came to see me, I reported to the government that I, too, hold ants inside my body, but I don't. Not yet. It is your ants I'm after. You have now become the ants who have fed on you; your consciousness is united with theirs. And when you all crawl inside of me, we will all be one forever." As his voice continued I could feel the ants rallying, see their legs beginning kick with heightened motion. "I never actually fed the ants you've become; I simply allowed them to eat you whole. But you will not eat me. I will feed you properly so that you don't. We will share my stomach—I've inserted a tube whereby everything I swallow will also be accessible to your minions, your thousands of minions that are now you entirely and do your bidding. I have always loved you, and when you came to my office, I knew this was my chance to make you mine."
And then I smelled something irresistible and began to crawl towards it, into the new pink-grey cave that must be the doctor. If what he said was true, in a primary way I was somewhat grateful to get inside of him—if I was now just thousands of swarming ants I did not wish to be in the public eye.
Once we had transferred, I was pleased to realize that I could see through the doctor's eyes as well as those of my ants. It is calming, to look through the eyes of another person. It stills your own thoughts almost to a halt.
"Do you love me?"
The doctor likes to ask this; he does so almost every hour. Although I cannot speak, he always smiles afterwards and says that he loves me too.
Throughout the day I have all types of sensations. Some are good, others worry me, but my fears can't grow so big that they reach outside of his body. Nothing can move beyond this body, so in a way I feel like I am the world, and he is the world, the same way that lovers feel. "How strange," I often think, though I try not to let him hear me thinking it, "to have so much in common with an unattractive man."
And then there is the evening, when sunlight pours into the window like nectar. He sits down to the dinner table in front of a large mirror—I think so that I can see him, though maybe he has figured out a way to see me. Then he carefully opens the bag of sugar with a knife. When I hear this sound, each of my ants jump and he smiles, his legs and arms contract whether he likes it or not. And though they are his own, I feel as if I guide his fingertips, that the tiniest of my workers go down into the marrow of his thumb and help to grip the teaspoon.
I love watching him eat. Teaspoon after teaspoon disappears into his mouth; his saliva coats the spoon's surface with stuck granules that change its color from silver to a crusty white. I cannot decide if he did me a favor or if I'm a victim. When I try to think, all I can feel is the sugar fluid, and a rage that comes when I find myself, after our feedings, somewhat hungry.
5. almost transparent blue by ryu murakami
Hey, Ryū, what about the city?
The plane came to rest in the middle of the sky.
It seemed to have stopped, a toy hanging by a wire from the ceiling of a department store. I thought we were the ones moving away with tremendous force. I thought the earth spreading away from our feet and the grass and the runway had all plunged downward.
Hey, Ryū, what about the city? Lilly asked, lying sprawled on her back on the runway. She took lipstick from her pocket, tore off her clothes and smeared it on her body, laughingly drawing red lines on her belly, chest, neck.
I realized that my head was full of nothing but the stench of heavy oil. There was nothing like a city anywhere.
Lilly drew a design on her face with lipstick, becoming one of the African women who dance crazily at festivals.
Hey, Ryū, kill me. Something's weird, Ryū, I want you to kill me, Lilly called, tears in her eyes. I threw myself off the runway. My body was clawed by the wire. The barbs bit into the flesh of my shoulder. I thought I wanted a hole opened in me. I wanted to be free of the oil stench, that was all I thought. Concentrating on that I forgot where I was. Groveling on the ground, Lilly called to me. Her legs flung out, naked, bound redly to the ground, she kept saying, Kill me! I went close to her. Her body shaking violently, she sobbed aloud. Kill me quick, kill me quick! I touched her red-striped neck.
Then one side of the sky lit up.
For an instant the blue-white flash made everything transparent. Lilly's body and my arms and the Base and the mountains and the cloudy sky were transparent.
And then I discovered a single curved line running through the transparency there. It had a shape I'd never seen before, a white curving, a white curving that made splendid arcs.
Ryū, you know you're a baby? You're just a baby after all.
I took my hand from Lilly's neck, and scooped the white froth from her mouth with my tongue. She took off my clothes and embraced me.
Oil flowing from somewhere separated around our bodies; it was colored like a rainbow.
6. i am my own betrayal by guillaume morisette
poems are for no one, very long poems are for themselves
PART ONE
the awkward and irrational logic behind
missing someone would be hard to
explain to a small child except maybe if
the small child knows that feeling sad
is okay and you tell the small child that
missing someone is an illness of the brain.
my bed is a mess, it misses you. it's been
having nightmares about being suffocated to
death with a red pillow. to calm the bed down
I have read the bed a bedtime story of printed-out
e-zine articles on ways to overcome a heartbreak.
intimacy is addictive. staring at the back of your
head at night is a small personal interaction that I miss
but didn't expect to. sometimes in my sleep I want
to bump into you or else maybe roll over you but can't.
I should have rolled over you very hard in my sleep,
to crush you into the bed and prevent you from leaving.
to invest a lot of energy into thinking about you
constantly is to considerably hate myself.
I miss you and I miss you naked. those are two
completely separate ways of missing you.
the bed is being a jerk to me. in the morning I wake up
with bed hair ten percent worse than usual. the bed is
accusing me I think of not missing you genuinely and just
being a weak person unable to cope with the large,
unfathomable feeling of suddenly having no one to care about.
as usual my feelings will adopt the physical shape of an
upside-down heart in the open office document, or at least
this is what the shape looks like to me. does it look different to
you; yes the physical shape of my feelings is a rorschach test.
what is right with me; very little.
I need a moment please.
PART TWO
lately I have been missing you in the form of
angel-shaped drool stains on my pillow.
a printed-out e-zine article informed me that occupying the mind
is the best way to get over missing someone, so yesterday
I worked almost all day on school stuff and lit stuff and emails.
most days I put more effort into emails than into school stuff.
at the end of the day I was tired and wanted to not think
anymore and to not stare at anything anymore, just
maybe close my eyes and make out with someone but
there was no one to make out with, is this tragic or what;
a refreshing way to overcome my pride would be
to send you an email whose subject line reads,
'I miss you' and whose body reads, 'see subject line.'
the bed looks depressed. its red sheets remind it
of your red winter coat and also of the red cover of
that book you gave me. the bed misses our bed talk.
at night, I can hear it make dolphin sounds in an
attempt to reach out and communicate. the noises
bounce off the walls and return to the bed, which
makes the bed feel shunned and very discouraged.
my serotonin level is often at its highest when no one is around.
to sabotage myself is to prevent others from doing so. what is
the meaning of missing you; a subject matter to tackle in a future
poem maybe, one whose best lines aren't even the funniest.
in my sleep, I rolled over from the bed and fell on the floor. I felt calm
because I have no particular associative memories of you and the floor.
one way to power through this self-imposed passive-affective mood
would be to do push-ups by the bed until I am bulked up and muscular,
an entirely different person capable of rolling over in the bed multiple
times, creating heat and making the bed as warm as when you were in it.
why does the empty bed keep happening to me;
I probably deserve it. I need a moment please.
PART THREE
I have been more of a facebook profile than
a person lately. yesterday the status updates
were cascading down the page like a zen waterfall
so I sat still and listened. what does the waterfall
says; the subtext is unknown, and possibly nothing.
the bed is in a coma now. I said your name to the bed
and it shivered so I put an additional blanket on the bed.
missing you is one problem, how to conclude this poem
is another. I don't think ahead, I think through. to write this
poem was mostly a ploy to kill time until our situation evolved.
but nothing happened. I feel the same now as I felt on the very
first line of this poem, except maybe for the disconnect between
what I do and what I want, which has somehow accentuated itself.
do you remember when the bed was so happy to see
you that it jumped on itself; that never happened, I lied.
I just wanted to leave you with a pleasant image of the bed.
throughout this very long process of mildly deranged
soul-searching I have determined that lovesickness is
a discouraging crisis for which tangible solutions include
a large black tea and stepping away from the keyboard.
but missing you is also a hiddenness of the
mind, the devoted, uncertain sensation that
perhaps there will never be certitudes, just more
feasible or less feasible longings and desires.
which reminds me,
let me state how hot you are: very.
can I start the poem over; I am not sure
you can do that. I need a moment please.
7. the collected stories of lydia davis
Break It Down by Lydia Davis
He's sitting there staring at a piece of paper in front of him. He's trying to break it down. He says, I'm breaking it all down. The ticket was $600. And after that there was more for the hotel and food and so on, for just 10 days. Say, $80 a day. No, more like $100 a day. And we made love, say, once a day. On the average, that's $100 a shot. And each time it lasted maybe two or three hours, so that would be anywhere from $33 to $50 an hour, which is expensive.
Though, of course, that wasn't all that went on, because we were together almost all day long. And she would keep looking at me, and every time she looked at me, that was worth something. And she smiled at me, and didn't stop talking and singing. Something I said, she would sail into it, a snatch, for me. She would be gone from me a little ways, but smiling too, and tell me jokes. I loved it, but didn't exactly know what to do about it, just smiled back at her and felt slow next to her, just not quick enough.
So she talked and touched me on the shoulder and the arm. She kept touching and stayed close to me. You're with each other all day long, and it keeps happening, the touches and smiles. And it adds up. It builds up and you know where you'll be that night. You're talking and every now and then you think about it. No, you don't think, you just feel it as kind of a destination, what's coming up after you leave wherever you are all evening.
And you're happy about it, and you're planning it all. Not it your head, really. Somewhere inside your body, or all through your body. It's all mounting up and coming together so that when you get in bed, you can't help it. It's a real performance. I mean, it all pours out, but slowly. You go easy until you can't anymore, or you hold back the whole time. You hold back and touch the edges of everything. You edge around it till you have to plunge in and finish it off.
And when you're finished, you're too weak to stand. But after a while you have to go to the bathroom, and you stand. Your legs are trembling. You hold onto the door frames. There's a little light coming in through the window. You can see your way in and out, but you can't really see the bed.
So it's really not $100 a shot, because it goes on all day, from the start when you wake up and feel her body next to you. You don't miss a thing, not a thing, of what's going on next to you. Her leg, her arm, her shoulder, her face, that good skin. I've felt other good skin, but this skin is just the edge of something else. And you're going to start going. I mean, no matter how much you crawl all over each other, it won't be enough. And when your hunger dies down a little bit, then you start to think about how much you love her, and then that starts you off again. And her face-- and you look over at her face, and you can't believe how you got there, and how lucky, and it's all still a surprise. And it never stops. I mean, even after it's over, it never stops being a surprise.
It's more like you have a good 16 or 18 hours a day of this going on. Even when you're not with her, it's still going on. I mean, it's good to be away from her because it's going to be so good to get back to her, you know. It's still there in you. And you can't go off and look at some old street or some old painting without feeling it in your body, and a few things that happened the day before that don't mean much by themselves or wouldn't mean much if you weren't having this thing together. But you can't forget, and it's all inside of you all the time. So it's more like, say, 16 into $100 would be $6 an hour, which isn't too much.
And then it really keeps going on while you're asleep, even though you're probably dreaming about something else. A building, maybe. I don't know. I kept dreaming every night, almost, about this building, because I'd spend a lot of every morning in this old stone building. And when I closed my eyes, I would see these cool spaces and have this peace inside me. I would see the bricks of the floor and the stone arches and the space, the emptiness between, like a kind of dark frame around what I could see beyond, a garden. And this space was like stone too, because of the coolness of it and the gray shadow, that kind of luminous shade that was glowing in the light of the sun falling beyond the arches. And there's also this great height of the ceiling. All this was in my mind all the time though I didn't know it until I close my eyes.
I'm asleep, and I'm not dreaming about her, but she's lying next to me and I wake up enough times in the night to remember she's there and notice, say, once she was lying on her back but now she's curled around me. I look at her closed eyes. I want to kiss her eyelids. I want to feel that soft skin under my lips but I don't want to disturb her. I don't want to see her frown as though, in her sleep, she's forgotten who I am and feels that just something is bothering her. And so I just look at her and hold onto it all, these times when I'm watching over her sleep, and she's next to me and isn't away from me the way she will be later. I want to stay awake all night just to go on feeling that. But I can't. I fall asleep again, though I'm speaking lightly, still trying to hold onto it.
But it isn't over when it ends. I mean, it goes on after it's all over. She's still inside you like a sweet liqueur. You're filled with her. Everything about her has kind of bled into you-- her voice, her smell, the way her body moves. It's all inside of you, at least for awhile after.
Then you begin to lose it, and I'm beginning to lose it. You're afraid of how weak you are, that you can't get her all back into you again, and now the whole thing is going to be out of your body, and it's more in your mind than in your body. The pictures come to you one by one, and you look at them. Some of them last longer than others.
You were together in this very white clean place, a coffee house, having breakfast together. And the place is so white that against it you can see her clearly, her blue eyes, her smile, the colors of clothes, even the print of the newspaper she's reading when she's not looking up at you. The light brown and red and gold of her hair when she's got her head down reading. The brown coffee, the brown rolls, all against the white table and those white plates and silver urns and silver knives and spoons, and against that quiet of the sleepy people in that room sitting alone at their tables with just chinking and clattering of spoons and cups and saucers. And some hushed voices, her voice now and then rising and falling.
The pictures come to you and you have to hope they won't lose their life too fast and dry up, though you know they will, and that you'll also forget some of what happened, because already you're turning up little things that you nearly forgot.
We were in bed, and she asked me, do I seem fat to you? And I was surprised because she didn't seem too worry about herself at all in that way, and I guess I was reading into it that she did worry about herself, so I answered what I was thinking, and said stupidly that she had a very beautiful body, that her body was perfect. And I really meant it as an answer, but she said kind of sharply, that's not what I asked. And so I had to try to answer her again, exactly what she had asked.
And once she lay over against me, late at night, and she started talking, her breath in my ear, and she just went on and on and talked faster and faster. She couldn't stop, and I loved it. I just felt that all that life in her was running into me too. I had so little life in me. Her life, her fire, was coming into me in that hot breath in my ear. And I just wanted her to go on talking forever right there next to me, and I would go on living like that. I would be able to go on living, but without her-- I don't know.
Then you forget some of it all. Maybe most of it all. Almost all of it, in the end. And you work hard at remembering everything now, so you won't ever forget. But you can kill it too, even by thinking about it too much, though you can't help but thinking about it nearly all the time. And then when the pictures start to go, you start asking some questions, just little questions that sit in your mind without any answers. Like, why did she leave the light on when you came to bed one night, but it was off the next, but she had it on the night after that, and she had it off the last night? Why? And all the questions, little questions that nag at you like that.
And finally the pictures go and these dry little questions just sit there without any answers. And you're left with this large heavy pain in you that you try to numb by reading. Or you try to ease it by getting out into public places where there'll be people around you. But no matter how good you are at pushing that pain away, just when you think you're going to be all right for a little while, that you're safe, you're holding it off with all your strength and you're staying in some bare little numb spot of ground, then suddenly it will all come back. You'll hear a noise. Maybe it's a cat crying, or a baby, something else like her cry. You hear it and make that connection in a part of you you have no control over, and that pain comes back so hard that you're afraid, afraid of how you're going to fall back into it again. And you wonder-- no you're terrified at how you're ever going to climb out of it.
So it's not every hour of the day while it's happening. It's really for hours and hours every day after that, for weeks, though less and less. So that you could work out a ratio if you wanted. Maybe after six weeks, you're only thinking about it an hour or so in the day altogether, a few minutes here and there spread over, or a few and minutes here and there and a half an hour before you go to sleep. Or sometimes it all comes back and you stay awake half the night.
So when you add up all that, you've only spent maybe $3 an hour on it.
If you have to figure in the bad times too, I don't know. There weren't any bad times with her, though. Maybe there was one bad time, when I told her I loved her. I couldn't help it. This was the first time this had happened with her. Now I was half-falling in love with her, or maybe completely, if she'd let me. But she couldn't, or I couldn't completely, because it was all going to be so short, and other things too. And so I told her.
And I didn't know of any way to tell her first that she didn't have to feel that this was a burden, the fact that I loved her, or that she didn't have to feel the same about me or say the same back, that it was just that I had to tell her, that's all. Because it was bursting inside me, and saying it wouldn't even begin to take care of what I was feeling, really. I couldn't say anything of what I was feeling because there was so much. Words couldn't handle it and making love only made it worse, because then I wanted words badly but they were no good, no good at all.
But I told her anyway. I was lying on top of her in her hands were up by her head and my hands were on hers and our fingers were locked, and there was a little light on her face from the window, but I couldn't see her. And I was afraid to say it, but I had to say it, because I wanted her to know. It was the last night. I had to tell her then or I'd never have another chance, and I just said, before you go to sleep-- I have to tell you before you go to sleep that I love you.
And immediately, right away after, she said, I love you too. And it sounded to me as if she didn't mean it, a little flat. But then it usually sounds flat when somebody says, I love you too, because they're just saying it back even if they do mean it. And the problem is that I'll never know if she meant it. Or maybe someday she'll tell me whether she meant it or not, but there's no way to know now. And I'm sorry I did that. It was a trap I didn't mean to put her in. And I can see it was a trap, because if she hadn't said anything at all, that would have hurt me too, you know, as though she were taking something from me and just accepting it and not giving anything back. So she really had to. Even if just to be kind, she had to say it. And I don't really know now if she meant it.
Another bad time-- or it wasn't exactly bad but it wasn't easy either-- was when I had to leave. The time was coming, and I was beginning to tremble and feel empty, nothing in the middle of me, nothing inside, nothing to hold me up on my legs. And then it came. Everything was ready and I had to go. So it was just a kiss, a quick one, as though we were afraid of what might happen after a kiss. And she was almost wild then. And she reached up to a hook by the door and took an old shirt, a green and blue shirt from the hook and put it in my arms for me to take away. The soft cloth was full of her smell.
And then we stood there close together looking at this piece of paper she had in her hand. And I didn't lose any of it. I was holding it tight that last minute or two, because this was it. We'd come to the end of it. Things always change, so this was really it. Over.
Maybe it works out all right. Maybe you haven't lost for doing it. I don't know. No, really, I mean, sometimes when you think of it, you feel like a prince really. You feel just like a king. And other times you're afraid. You're afraid not all the time, but now and then, of what it's going to do to you. It's hard to know what to do with it now.
Walking away I looked back once, and the door was still open. I could see her standing far back in the dark of the room. I could only really see her white face still looking out at me, and her white arms.
I guess you get to a point where you look at that pain as if it were there in front of you three feet away lying in a box, an open box in a window somewhere. It's hard and cold like a bar of metal. You just look at it there and say, all right. I'll take it. I'll buy it. That's what it is. Because you know all about it, before you even go into this thing. You know the pain is part of the whole thing. And it isn't that we can say afterwards the pleasure was greater than the pain, and that's why you'd do it again. That has nothing to do it. You can't measure it, because the pain comes after and it lasts longer. So the question really is, why doesn't the pain make you say, I won't do it again, when the pain is so bad that you have to say that, but you don't?
So I'm just thinking about it. How you can go in with $600, more like $1,000, and how you can come out with an old shirt.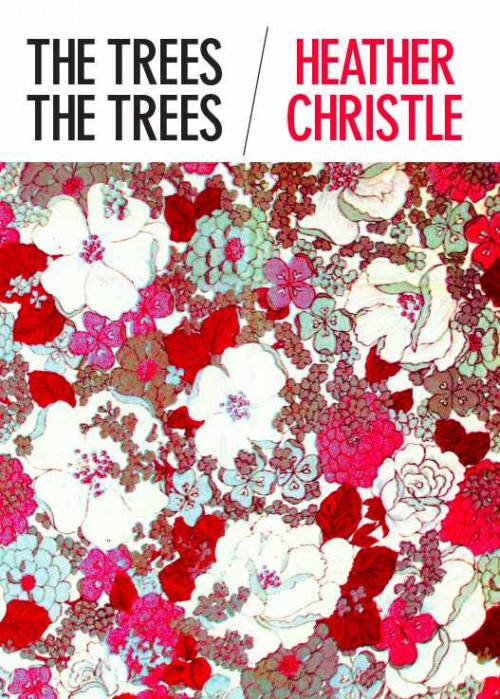 8. THE TREES THE TREES by heather christle (poetry)
THE WHOLE THING IS THE HARD PART
you have to live where the house lands on you
what else can you do your bones are all broken
and somebody loves you who is it tell me who
loves you not as much as I do I mean I even
built you a house and found you why won't
you live in it
LINE UP IN AN ORDERLY FASHION
a disaster moving toward me must first fill out
the forms then I will cry for nine days I will
make two extra copies friends there are no
limits to my understanding I understand my head
off miss they say to me miss but I can't
hear a thing over the noise of breaking pencils
and outlines and waves love or hate the ocean
you still drown like other sailors getting wet
getting wet getting wet
WHEN THE SUN WENT DOWN THEY KEPT GROWING
now I understand you are the owner of a small
piece of time like anyone else tonight
everyone's sending me flowers and I am upset
thinking maybe where I am the earth will collapse
I mean they are light enough but gather this
many together and some are peonies I can't
understand how they even stand up babies can't
do what they do I don't want to be over any
time in the next hundred years on the night of the
one thousand migrating geese they were hiding
the whole goddamn lake if you can imagine of
course you can you are not some mindless phlox
and Amanda listen because this affects us both
your wind-chimes sound adorable when I come
in they injure my head
9. a lover's discourse by roland barthes
Waiting
I am waiting for an arrival, a return, a promised sign. This can be futile, or immensely pathetic; in Erwartung (Waiting), a woman waits for her lover, at night, in the forest; I am waiting for no more than a telephone call, but the anxiety is the same. Everything is solemn; I have no sense of proportions.
There is a scenography of waiting: I organize it, manipulate it, cut out a portion of time in which I shall mime the loss of the loved object and provoke all the effects of a minor mourning. This is then acted out as a play.
The setting represents the interior of a cafe'; we have a rendezvous, I am waiting. In the Prologue, the sole actor of the play (and with reason), I discern and indicate the other's delay; this delay is as yet only a mathematical, computable entity (I look at my watch several times); the Prologue ends with a brainstorm: I decide to "take it badly," I release the anxiety of waiting. Act I now begins; it is occupied by suppositions: was there a misunderstanding as to the time, the place? I try to recall the moment when the rendezvous was made, the details which were supplied. What is to be done (anxiety of behavior)? Try another cafe'? Telephone? But if the other comes during these absences? Not seeing me, the other might leave, etc. Act II is the act of anger; I address violent reproaches to the absent one: "All the same, he (she) could have … " "He (she) knows perfectly well … " Oh, if she (he) could be here, so that I could reproach her (him) for not being here! In Act III, I attain to (I obtain?) anxiety in the pure state: the anxiety of abandonment; I have just shifted in a second from absence to death; the other is as if dead: explosion of grief: I am internally livid. That is the play; it can be shortened by the other's arrival; if the other arrives in Act I, the greeting is calm; if the other arrives in Act II, there is a "scene"; if in Act II, there is recognition, the action of grace: I breathe deeply, like Pelleas emerging from the underground chambers and rediscovering life, the odor of roses.
(The anxiety of waiting is not continuously violent; it has its matte moments; I am waiting, and everything around my waiting is stricken with unreality: in this cafe', I look at the others who come in, chat, joke, read calmly: they are not waiting.)
Waiting is enchantment: I have received orders not to move. Waiting for a telephone call is thereby woven out of tiny unavowable interdictions to infinity: I forbid myself to leave the room, to go to the toilet, even to telephone (to keep the line from being busy); I suffer torments if someone else telephones me (for the same reason); I madden myself by the thought that at a certain (imminent) hour I shall have to leave, thereby running the risk of missing the healing call, the return of the Mother. All these diversions which solicit me are so many wasted moments for waiting, so many impurities of anxiety. For the anxiety of waiting, in its pure state, requires that I be sitting in a chair within reach of the telephone, without doing anything.
The being I am waiting for is not real. Like the mother's breast for the infant, "I create and re-create it over and over, starting from my capacity to love, starting from my need for it": the other comes here where I am waiting, here where I have already created him/her. And if the other does not come, I hallucinate the other: waiting is a delirium.
The telephone again: each time it rings, I snatch up the receiver, I think it will be the loved being who is calling me (since that being should call me); a little more effort and I "recognize" the other's voice, I engage in the dialogue, to the point where I lash out furiously against the importunate outsider who wakens me from my delirium. In the cafe', anyone who comes in, bearing the faintest resemblance, is thereupon, in a first impulse, recognized.
And, long after the amorous relation is allayed, I keep the habit of hallucinating the being I have loved: sometimes I am still in anxiety over a telephone call that is late, and no matter who is on the line, I imagine I recognize the voice I once loved: I am an amputee who still feels pain in his missing leg.
"Am I in love?—Yes, since I'm waiting." The other never waits. Sometimes I want to play the part of the one who doesn't wait; I try to busy myself elsewhere, to arrive late; but I always lose at this game: whatever I do, I find myself there, with nothing to do, punctual, even ahead of time. The lover's fatal identity is precisely: I am the one who waits.
(In transference, one always waits—at the doctor's, the professor's, the analyst's. Further, if I am waiting at a bank window, an airport ticket counter, I immediately establish an aggressive link with the teller, the stewardess, whose indifference unmasks and irritates my subjection; so that one might say that wherever there is waiting there is transference: I depend on a presence which is shared and requires time to be bestowed—as if it were a question of lowering my desire, lessening my need. To make some wait: the constant prerogative of all power, "age-old pastime of humanity.")
A mandarin fell in love with a courtesan. "I shall be yours," she told him, "when you have spent a hundred nights waiting for me, sitting on a stool, in my garden, beneath my windows." But on the ninety-ninth night, the mandarin stood up, put his stool under his arm, and went away.